Kuala Lumpur
2004年 10月 22日
Date: Oct 22-25
This is the first time I went to Kuala Lumpur (KL). Before that I had no idea what the city is like except the famous Twin Towers and the food.
I already turned down Kevin's offer of going to his friend's spa. In order not to be rude, I couldn't say "no" again when he offered to come to pick us up at the airport the night we arrived. So he came, but he was late. X_X Anyway. It was rainning cats and dogs on the way to the hotel. We were so worried about the weather in the next few days, but Kevin told us that actually it's now the rainny season in Malaysia. Weather is OK in daytime, but usually rains at night.
My 5060 was with me throughout the whole trip, with a small Olympus DC for emergency (but didn't bother to take it out cuz it's totally unnecessary). I didn't bring the tripod with me, cuz I didn't want to hand carry so much for a 3-4 days trip (otherwise would totally look stupid :P), and it proved that my decision was right. Over 250 pics were taken at this trip, which is average, plus extra shots taken at the same spot for exercise.
Oct 22: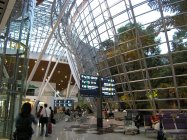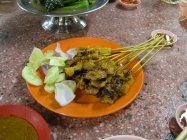 The KL airport is huge and nice, similar to HK's.
This night, Kevin drove us to a food court near Jalan Imbi and we tried satay chicken sticks and fried white noodles. Not special, but delicious. :D After meal, we went to check-in the hotel, and we had a drink at the hotel coffee shop. I tried the starfruit juice (Yummy!). I like starfruits but had never tried "drinking" it. Kevin introduced many places to us. We wondered if we could have enough time visiting all of the places. @_@