Biz Trip at Shanghai (1)
2005年 01月 19日
The arrangement of this bisiness trip was sort of "in-a-hurry".
The freak (a french guy at my office) decided to go for this trip the night before at 7pm. Damn! He should have told me earlier his decision. And I spent 2 hours talking with our agent for flight and hotel arrangements...
We took the flight in the afternoon. I've been praying the whole night that hotel rooms could not be arranged and the trip would have to be cancelled, but God did it in the opposite way, as usual...
We still went to the office in the morning, and we left for the airport at around 2pm. Thanks for the efficient transportation network in HK! We managed to catch the plane and headed for Shanghai.
This is my second time to Shanghai. Last time, it was 2 years ago, we went to attend a conference, with my beloved colleague (she passed away last September cuz of cancer). So the place reminds me greatly about her and the days during our first visit. Feeling a bit sad, but... c'est la vie, this is life...
The freak is sort of emotional, and everyone at office doesn't like him. I don't have any extreme attitudes towards him, cuz somehow i feel that i can understand him --- sometimes. We talked a lot about things happened at office, people, etc during the 2hrs 35mins flight. I found that for many of the things had happened, what he thinks are right, and i'm shock to find out that we are sharing the same thoughts on many things! Usually when he goes mad at something, he seldom explains and he says things directly that hurts people. That's why people don't like him.
Well, always thinks and sees things from different points of view, talking to people (no matter u like them or not) will help us understand things and broadens our mind.
Arriving at Shanghai, we headed for the magnetic "floating train" station. We walked a long long way to the station, and not until we reached the ticket counter, we saw the sign saying that the last train was at 17:30. @______@ The government spent a lot of money building this train, but it closed for service at 17:30pm everyday?!?!?! Ridiculous!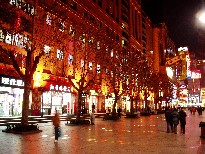 Anyway, we took the taxi to our hotel at the Bund. This night, we found "Ajisen Ra-men" shop nearby and we tried for dinner. The food was okay, but "Chinese" more than "Japanese". XD