Biz Trip at Shanghai (2)
2005年 01月 20日
Waken up at mid-night cuz 2 foreigners at next door had been talking loudly the whole night till early morning, and the wall was thin...
In the morning, we were woken up by noise of the steps upstairs (some guests must have been running inside the guestroom!) XD
We had the meeting with the clients from 10:30am, and the place was inside a large, nice building nearby Lujiaju subway station. The whole morning, the guys (extra Chinese guys at the meeting) had been presenting a report in a stupid, clumsy way, plus translations in english and japanese. All figures in a mess and instead of raising questions to them, the clients preferred asking me for explanations... X_X (It's lucky that we had obtained the exact figures and had already explained to the clients before the meeting started). Throughout the meeting in the morning, which was not our part but we were forced to attend, i've been wondering how much the clients had paid those guys for the job, which was...... XD
After the buffet lunch, the meeting continued with discussions and arguments between those guys regarding the "figures" until 19:00pm. X_X This was the longest meeting i had ever had.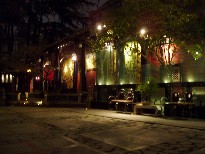 This night, the dinner was held at a very nice chinese restaurant. The premise was said to be serving as the former Consulate of UK.
P.S. After that, I heard from the freak that, many people had been complaining/not happy with that restaurant cuz the food was common and the taste was just ok, while the price was extremely high...