A Relaxing Sunday...
2005年 07月 24日
Had so much fun with my uncle and aunt, my family and my cousin (Ken) at the country club today.
Arriving at noon, we had had a super YUMMY lunch buffet at the club's restaurant, overlooking the nice view of Tung Lung Island.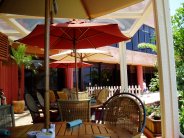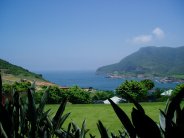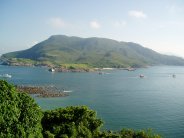 It was sunny and hot that only a few people were seen playing in the pool, which has a depth from below 1m to 3.5m. (3.5m!! What an experience! I wanted to jump in although it sounds scary to me.) Water in the pool under the strong sunlight shinning in cool, diamond blue; while the small reservoir at Tung Lung Island was silvery white like a mirror!
We played golf, badminton and table tennis after lunch. I've never been sweating that much. It's like taking a shower or getting in a sauna with clothes on. XD
I saw Ken in high spirit and laughters. Long time haven't seen him like this... (We did the right thing to have invited him to join us.)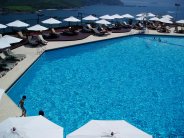 Later, all members played and swam in the nice pool. This pool really impressed me as it's soooooo clean, and not as crowded as those public pools. @_@ I didn't bring my swim suit, and was forced to stay in bed under the sunbrella, watching people. (How come I took my sunglasses but didn't take the swimwear?!) Sometimes, I carried my camera to take a few snap shots, and sometimes, I walked at the children's pool.
Again, I've never seen Ken being so happy having fun at the pool... Gotta take a picture for him. :)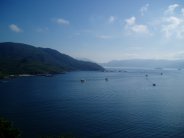 What a comfortable, relaxing afternoon. If I could enjoy the pool at the area in 3.5m depth, that would be perfect. :D
At around 6pm, nearly time for sunset, I saw several boats nearby Tung Lung Island sailing on the same route (like lining up). Should be on their returning trip...